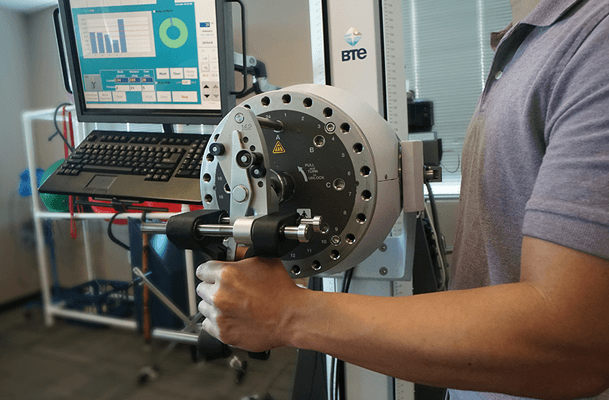 With our commitment to providing quality care and the best therapeutic outcomes, FORM Hand Therapy uniquely offers BTE (Baltimore Therapeutic Equipment) Primus RS technology. BTE is an interactive rehabilitative system that is able to replicate specific tasks and objectively track progress to show improvement with each therapy session. Being able to obtain quantifiable information on your condition and progress in rehabilitation, allows us to make the best clinical decisions regarding your care.
For hand therapy patients, restoring hand function by replicating specific tasks is invaluable. Some of our patients who have benefited from BTE Primus RS include bus drivers, construction workers, factory workers, etc. BTE Primus RS is able to replicate occupational tasks such as bus/truck steering wheels, various hand tools like screwdrivers, and levers with varied resistances. BTE Primus RS can simulate daily tasks such as turning a doorknob, using a key, grasping and pinching, all while controlling resistance as your therapist makes adjustments and monitors your progress throughout your therapy program.
We offer:
Functional Capacity Evaluations using BTE work simulator to measure baseline abilities objectively to determine an individual's potential to return to work following injury or overall disability status.
Work Hardening applies BTE technology to design a specific individual's program to improve strength and endurance and incorporate hand and upper extremity function in purposeful activities. The goal for patients performing work hardening exercises is to return to previous levels of function in activities of daily living (ADL), work-related tasks, and recreational activities.
If you have recently had surgery to your hand, wrist, elbow, or shoulder, ask your doctor for a referral to FORM Hand Therapy. You can print a referral form for your doctor to fill out or contact our office for additional information at (510) 350-3030.