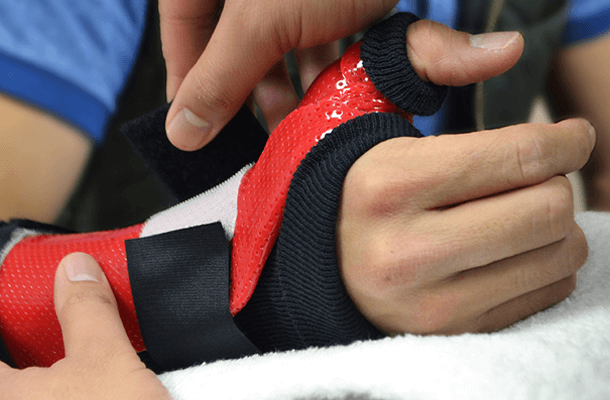 At FORM Hand Therapy, our therapists are highly knowledgeable in the technical skills of custom fabricated splints. Once the need for immobilization is determined, our therapists fabricate splints according to your condition and requirements. Splints are designed to protect and immobilize a bone or joint and assist in regaining range of motion of a joint. Custom splints are preferred over off-the-shelf splints because they can be modified as your needs change with the progression of therapy. Off-the-shelf splints are limited in sizing and adjustment options.
Our therapists make custom splints quickly and they are easy to apply.
We offer:
Static splints to immobilize, protect, and rest a joint.
Dynamic splints designed to increase passive range of motion, augment active range of motion, or substitute for loss of range of motion.
Serial splints undergo repeated remodeling to guide progressive increases in range of motion.
If you have recently had surgery to your hand, wrist, elbow, or shoulder, ask your doctor for a referral to FORM Hand Therapy. You can print a
referral form
for your doctor to fill out or contact our office for additional information at
(510) 350-3030
.