Physical Agent Modalities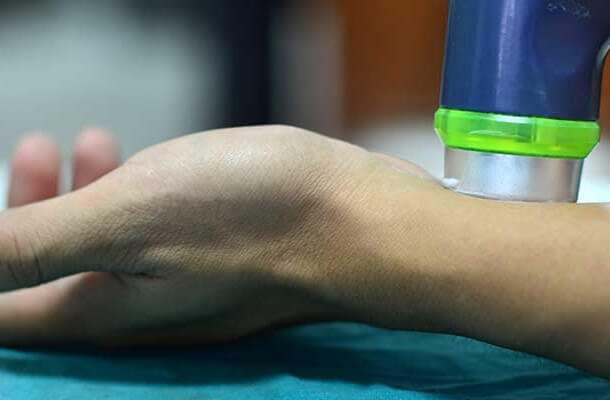 At FORM Hand Therapy, our Hand Therapists are experienced in the use of physical agent modalities as an adjunct to a comprehensive plan of therapy care. Physical agent modalities are devices or interventions that can stimulate soft tissue changes in ways that are not possible with voluntary patient activity or manual therapy techniques. Such modalities, when used in conjunction with therapeutic exercises, can promote faster healing and return of function.
We offer:
Ultrasound (deep thermal therapy).
Iontophoresis to deliver medication to a localized area using a mobile patch.
Thermotherapy (heat) with paraffin wax treatment
Cryotherapy (superficial cold therapy).
Electrical stimulation therapy for neuromuscular rehabilitation, desensitization, and pain control.
Ultrasound therapy reduces inflammation. It breaks down scar tissue and increases local blood flow to increase healing rates in the area, making it an effective treatment to speed up slow-healing or addressing chronic issues more suitably.
Iontophoresis uses a direct electrical current of ions to deliver anti-inflammatory drugs to subcutaneous tissues and joints for therapeutic purposes. 
Thermotherapy or heat therapy is effective in decreasing joint stiffness, increasing blood flow, reducing pain and inflammation, reducing stress and tension, and relieving muscle spasms. 
Cryotherapy or cold therapy is effective in helping patients with muscle pain, as well as some joint and muscle disorders, such as arthritis. With superficial cold application, blood flow increases and provides the needed relief from pain.
Electrical stimulation therapy uses electrical stimulation to improve joint pain and swelling, prevent and reverse muscle atrophy (loss of muscle mass/tissue), increase range of motion for tense muscles or tendons, reduce stress and discomfort, and improve blood flow and circulation.
If you have recently had surgery to your hand, wrist, or elbow, ask your doctor for a referral to FORM Hand Therapy. You can print a referral form for your doctor to fill out or contact our office for additional information at (510) 350-3030.